TOYOTA'S HYBRID X
COULD BE THE NEW PRIUS

Today's Toyota press conference was packed. It might have had something to do with the fact that the company's stand is in an awkward corner of the Palexpo with little room for seating. But there's no getting around the fact that Toyota is a big deal right now. And the Toyota Hybrid X isn't just another funky hybrid concept car. We think it's a pretty good look at what the third-generation Prius could be.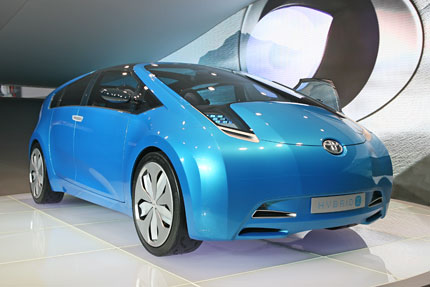 For starters, the Hybrid X just looks like a Prius -- from the front, from the back and in profile. It wears 20-inch wheels, but they're wrapped in meek 225/40 tires that are probably low rolling resistance. Plus, its wheelbase (110.2 in.) and length (177.0 in.) are both within a few inches of the current production Prius. "Designed as a four-door, four-seat open-space vehicle, the Hybrid X provides sustainable mobility for modern families," said Thierry Dombreval, executive VP of Toyota Motor Europe. Sounds like a Prius to us.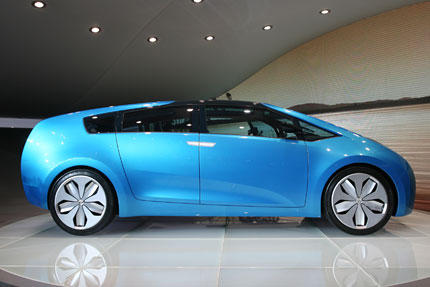 However, the concept car is 5 inches wider than the 2nd-gen Prius. The extra width is likely related in part to the twin bucket rear seats' ability to swivel up to 12 degrees. Another difference is its mostly glass roof structure. The "X" part of its name comes from the narrow, U-shaped bands of sheet metal framing its windshield and rear hatch, which converge to form an "X"... yeah, it's a stretch.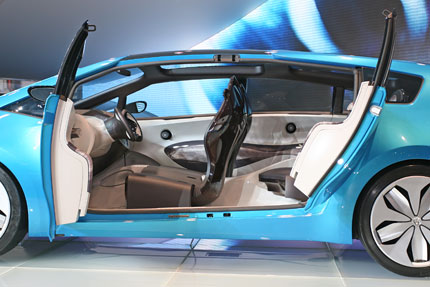 More interesting are the anthropomorphic elements the Hybrid X picks up from previous Toyota concepts. An interface in the car allows the driver to tailor various sensory elements (sight, sound, touch and smell) to his preference. Finally, a car that's fun to smell.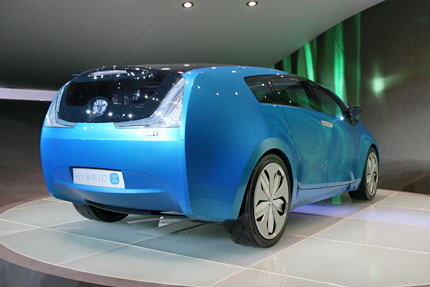 Written by: Erin Riches, Edmunds - Inside Line
---
RELATED LINKS:

Updated Daily!
* * * IN-HOUSE RESOURCES * * *