LOHAS SURVEY
WHAT'S ON CONSUMERS
HEALTHY HOLIDAY TABLE

This holiday season LOHAS (Lifestyle of Health and Sustainability) households are revamping their traditional feasts with healthier options for many of their favorites, according to the Market LOHAS Annual Health & Natural Shopper Survey. The survey found that 8 in 10 consumers will serve up Organic/Non-GMO Food for healthy Holiday entertaining. Over half will be serving 'Locally' Sourced and/or Made Foods to their holiday guests expanding the 'knowing where your food is coming from' trend into holiday meals and entertaining.

Consumers are extending their healthy LOHAS lifestyles to their holiday tables in numerous ways. Half say that for the main course they will be purchasing natural/ABF or organic meat & poultry. Quite a few tables will be including seafood with a quarter indicating that they will be serving wild and/or sustainable seafood.

Busy LOHAS consumers will support artisan/craft food and bakeries with almost 4 in 10 including Natural Handcrafted/Packaged Specialty Baked Items on their holiday entertainment tables.

Menus will be modified for the holiday season & New Year. The Study found that many households will be switching their holiday menu & entertaining for health & planet reasons, dietary needs and desires by adding more plant-based vegetarian foods and Gluten Free options to holiday favorite dish options.

Healthy holiday food highlights from the 1000 LOHAS health & eco shoppers polled in the annual Market LOHAS Survey fielded among opinion leader natural and organic consumers to provide insights into healthy LOHAS product and industry market trends.

Healthy Natural Food Items that LOHAS consumers will have on their holiday and winter entertaining tables:

• Over half will serve 'Locally' Sourced/Made Food.

• Almost half replied Natural/ABF or Organic Meat/Poultry.

• Another 1 in 2 say Plant-based Vegetarian Food will be on their healthy holiday tables.

• Almost 4 in 10 entertain with Natural Handcrafted/Packaged Specialty Baked Items.

• More than 1 in 3 will have Gluten Free items on their table.

• Around 1 in 4 prepared Wild/Sustainable Seafood for their winter holiday entertaining.

• Around 1 in 6 will be serving Paleo Dishes.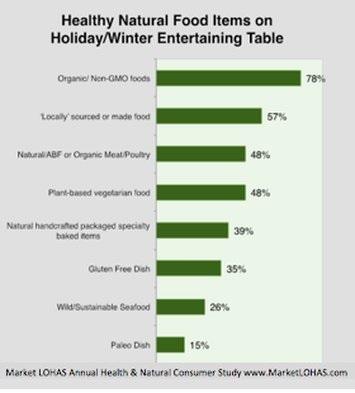 The Consumer Survey along with comments from natural foodie focus groups also found that about 8 in 10 LOHAS consumers look for Clean labels with fewer ingredients—all of which they can pronounce. Are you a health & natural consumer looking to share your opinions? Let companies and brands know the kinds of healthy eco living products you want for you and your family. As a Survey thank you, you'll receive FREE health & natural product samples, coupons and incentives.
Join our LOHAS Shopper Panel mambotrack.com
Naturally, Market LOHAS wishes you Wellness this Holiday! Wellness Tip: Be Well. Do Good. Act Green in the New Year!
Written by: Bethany Stanley, Market LOHAS
---
RELATED LINKS:

Updated Daily!
* * * IN-HOUSE RESOURCES * * *