RADIATORS:
THE SECOND COMING

Over the last 50 years one radiator has shown its true worth, where others have struggled. A single unit intricately composed of two separate metals to give it the edge necessary to excel at what it does. Today these bi-metal radiators are made with a steel core and aluminum body to exude the definition of what central hydronic heating stands for. It was only about a decade ago when the people of the world decided to move on from radiators, but with the 21st century coming into full swing, the people have decided that the modern style or old fashioned look is once again commendable.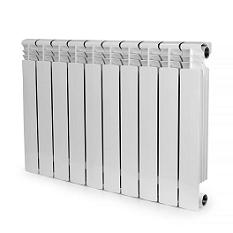 Forget about those two-thousand pound cast iron radiators lying in the middle of the room, doing nothing but taking up space. Remember running into one of those two ton artifacts? They were always half the size of the room they were in. Letís not discuss the boiling hot temperature the outside of the radiator would reach. Then you forget how hot it is and boom, immediate first degree burn.
Nowadays the hassle of being warm is no longer a hassle. With the introduction of aluminum bi-metal radiators you can skip all that non-sense and go straight to the warm and comfortable part of your day. These radiators offer a lightweight ergonomic design perfect for any home. They fit into confined spaces, or can be left out for the guest to see how fashionable your radiators are. Did I mention that the aluminum shell provides a burn free setting? Yes, it stays cool while the core operates at extremely high temperatures.
Their unique design gives them many advantages in the heating aspect. The steel core provides a tough, durable, and anti erosive setting, as the aluminum shell maintains the lightweight of the material while adding on it ability to emit heat at a high level of efficiency. Due to the specific design, it is able to transfer heat more efficiently than copper, bronze, and steel. They are coated with a scratch resistant paint to ensure the look stays fresh. These radiators are being used all over Europe due to their supremacy, and itís no wonder why with their amazing BTU ratings.
They are easy to install, and can be set up to your pre-existing heating pipelines. So weíre firmly introducing you to the newest-oldest invention of our time, the aluminum bi-metal radiator!
Click below to e-mail this article to a friend
or to post a link on your favorite sites.
Thank you!
Written by: Canarsee Supply

---
RELATED LINKS:

Updated Daily!
* * * IN-HOUSE RESOURCES * * *