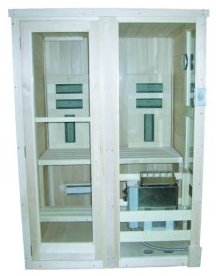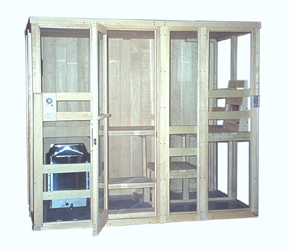 HEAVENLY HEAT SAUNA
SAUNA ROOMS DESIGNED WITH YOUR HEALTH IN MIND
800-697-2862
Saunas designed with your health in mind!
Heavenly Heat was founded in 1987 as one of America's first distributors of far-infrared (FIR) saunas, and since 1989 has built specialty saunas for the chemically injured.
Heavenly Heat saunas are "medical-grade" – built for optimal safety and effectiveness, with materials and construction methods that are more demanding than with ordinary saunas. No one builds saunas like we do!
Saunas are often constructed with materials that make them inappropriate for detox. Our saunas provide an ideal detox environment. Anyone seeking to eliminate toxic substances from their body can appreciate the value and wisdom of using a sauna that's as safe as those required by chemically sensitive persons.
For Heavenly Heat to obtain the ideal sauna-detox environment:
• Each sauna is built without wood glue, varnish, or plywood.
• Only the highest, "clear" grade of white poplar is used - for all wooden parts of each sauna.
• All framing boards are securely screwed together, rather than nailed and glued, as others do. v • All windows are made of strong heat-tempered glass.
• Window gaskets are custom-milled poplar rather than common synthetics. v • Lights are plain metal and glass, rather than typical coated metal or plastic.
• "Gadgets" like CD players and ionizers are excluded to limit the heating of synthetics.
• Each sauna has a passive venting system for an automatic, constant air-exchange.
• Our far-infrared heaters are tested to assure lower electro-magnetic fields (EMF).v • For highly sensitive individuals, mostly-glass units are available, at no added charge.
• Each bather controls the intensity of the infrared energy nearest to them from within the sauna.
• A carbon filter purifies the air leaving the sauna, before it enters your living space.
• Wall-connecting latches (used in FIR models) are made of stainless steel.
Two of the most highly regarded sauna detox programs for the chemically injured are at the EHC-Dallas, run by Dr. William Rea, and the Nova Scotia-EHC, the clinic for Canadians diagnosed with "multiple chemical sensitivity". Both medical clinics have used a Heavenly Heat sauna successfully for many years.
The HH sauna for Canadian MCS patients Why Sauna?
Dr. Dietrich Klinghardt has written: "Peer reviewed literature shows that sweating during sauna therapy eliminates high levels of toxic metals, organic compounds, dioxin, and other toxins." Dr. Klinghardt recommends Heavenly Heat saunas exclusively.
The following are quoted snippets from various articles and studies on toxic metals:
a. "Analyses of the patient's sweat indicated that appreciable amounts of mercury were excreted by this route."
b. "The mean concentrations of nickel and cadmium in sweat were higher than those reported for urine; that of lead was similar to urine."
c. "By far the earliest known form of therapy" (to induce mercury excretion), "and possibly still the most effective, is the induction of sweating by the use of sauna or steam baths." d. "… sauna therapy of an individual with evidence of chronic mercurialism was effective at inducing a remarkable excretion of mercury via the sweat."
e. (In workers who have perspired profusely) "the total amount of mercury excreted in the sweat during 90 minutes ranged from 50% to 90% of that found in a 16-hour composite sample of urine.
f. "Sweating does indeed increase mercury excretion. Probably an hour or two of sauna is the same as 50 mg of DMSA every 4 hours for a day."
Dr. William Rea, founder of The Environmental Health Center – Dallas, is considered the foremost expert on chemical sensitivity. He has put thousands of severely chemically injured patients through sauna detox. He has used a Heavenly Heat sauna since 1994. At the 2007 annual meeting of the "American Academy of Environmental Medicine", Dr. Rea gave a talk on his detox program and the data on the chart# below was presented:
SAUNA EFFECTIVE RATE FOR REMOVAL OF CHEMICALS
EHC-DALLAS ©
CHEMICAL %
STYRENE 100
CHLOROFORM 90
DICHLOROBENZENES 90
TRIMETHYLBENZENES 88.9
DICHLOROMETHANE 77.3
BENZENE 72.7
TRICHLOROETHYLENE 68.4
XYLENES 60.9
ETHYLBENZENE 60.9
TETRACHLOROETHYLENE 60.4
TOLUENE 55.3
1,1,1,-TRICHLOROETHANE 48.9

Not Just Any Sauna - Important Distinctions
Several companies try to create the impression that their saunas are built like ours. They use the same or a similar low-resin wood for the visible paneling and describe their saunas as made of non-toxic wood or as hypoallergenic. The unsuspecting may assume that they are also made for people who are chemically ill or have allergies, while the truth is an entirely different matter.
False impressions are reinforced if other components are not revealed. For instance, it may not be stated that: a different wood species is used for the framing; plywood is hidden; the paneling is nailed to a glue-coated frame; the exterior is coated or varnished, etc.
Most FIR saunas are built with lots of adhesives as it makes construction faster than building without them and it allows for the use of thinner, cheaper wall paneling. They are designed for rapid production, economy, and appearance - not for the "purity" required for our medical-quality detox saunas.
FIR sellers downplay the glue factor by claiming to use small amounts of water-based glue. Some wood glues are labeled "non-toxic", but they are not chemical-free. Most are water-emulsified plastic with chemical additives (biocides, preservatives, etc.). Glue can wear down in saunas and the temperature shifts stress the wood. In each FIR sauna we've inspected, the construction was adhesive-reliant as these thin-panel saunas would risk durability if just a "few drops" of glue were used. While detoxifying, the last thing you want to do is sweat out one toxin and inhale fumes of another!
Heavenly Heat's use of non-corrosive steel screws and thicker paneling assures that each sauna has both the clean air that is essential for effective detox, as well as the strength needed to last for decades. Each sauna is built in Arizona and shipped crated and insured.
Three types of saunas are offered:
Traditional - Finnish models with stones. Add FIR with options.
FIR - all-infrared models (custom larger units are available).
Combination – A+: a 2-person "combo" unit with both types of heating.
Sweating is the body's safe and natural way to Detoxify, Heal ans Stay Healthy. Sweat out harmful toxins from deep within skin tissue.
In 1989, Heavenly Heat began building clean-air popular infrared saunas of non-toxic, non-allergenic materials for the chemicallysensitive. Today, These saunas have evolved to enclude both Finnish stone heating, and stone heating in combination with far infaredbody heating, to create the safest, most versatile, most comfortable, and most effective saunas for detoxification.
For optimal detoxification, a sauna must be uncontaminated by harmful fumes from heated synthetic materials and glues. The sauna'sinterion air quality is a direct consequence of the construction materials, so only natural , untreated, non-allergenic materials can beused. The strength of the electrical circuits' electro-magnetic fields, relative to the bather's proximity to a heater is also a critical factorthat is addressed in these health-enhancing sauna rooms. The leading authorities in medical detoxification recommend HeavenlyHeat's safe conscientiously built saunas, and their superiority is apparent to health-conscious individuals.
Generally, the chemically ill are the first to react to toxic contaminants in our surroundings. Everyone's health and fittness are affected by the chemical onslaught of modern life, and is very beneficial to periodically purge ourbody of toxins. We believe that our fresh air saunas are the most significant home health maintenance tool, and can be the key toattaining your health and fitness goals.
Heavenly Heat saunas are not made like other saunas. Due to allergy concerns, common aromatic softwoods are not used - nospruse, pine, cedar, or redwood. There are none of the often used synthetics: wood glues, fiberglass, plexiglass, plywood, putty,stains, or other potentially harmful products. Only premium grades of dry, untreated white poplar wood are used, included all consealed framing, with windows of strong, heat-tempered glass. Without adhesives, all wall boards, bench parts, and framing members are secured in place with non-corrosive screws. Cleaned, stainless steel, UL &CSA approved heaters, with stones, areused, with the option of adding far infared body heating.
Each sauna is a complete, freestanding room, with a full floor so they may be set on carpet. The flow-through air venting is carbon-filtered, and no other other plumbing or venting is required. Each sauna is fully assembled, tested, and "baked", then takenapart and crated in convenient-to-handle sections. All models can be disassembled for relocation. the heater choices include both110V and 220V power.
Other standard features include: extra wide seats with backrests; towel bars; glass walls; and glass & metal thermometers. Optionally, you may custom modify with wood or glass wall sections: add locking floor casters so aunit is raised, and can be rolled: add a wall light in a mostly-glass room: add backrests with ceramic, far-infared hear: apply a safe,water-based protective sealant to the exterior; install a floor cover of stainless steel; or install rugged, metal-housed stereo speakers,with cables, for hookup to a home sound system.
Five Models, Seven Sizes
A: a comfortable personal sauna with 110V, 220V, or far infared heating
A+: a comfortable 2-person unit combining far infared & stone heating; 110V or 220V.
C: convertible seating for reclining, or for a parent, with a small child's seat; 110V or 220V.
XtraC: an expanded, 220V, C model, for 2, or convert seats to one bench to recline.
M: 3 sizes of larger 220V rooms for personal, family, or clinic use.
Glass Choices
You may vary the standard use of glass by selecting a "GL" option that is available for any given model. All GL options are $75. Thestandard use of glass use of glass for each model is listed on the "Detail Sheet". A wall light is installed at no extra charge when GL-1 (full glass on the front only) is selected.
Heating
Each wall heater is pre-mounted, and includes heat-storing stones. The rooms may be run at the higher temperature ranges of over160F, although for detoxification purposes they are most often used in the lower, very comfortable 120-160 degrees range, with acontinuous flow-through air change. One may use the saunas dry, or moisten the stones to modify the humidity, or employ aromatherapy. The stones are highly heat absorbent and re-radiate energy in the far infared wavelengths. There may be more totalinfrared radiation from these heated rocks than in so-called "infrared sauna". The first infrared saunas, built in the 60's in Japan, were based on patented heaters built of far infared emitting zirconium. The igneous stones used in traditional Finnish sauna heaters are nature's richest source of zirconium. These heaters have stainless steel heating elements, and the controls have timers, over-heatprotection, and thermostats. The heaters in the A, A+, C, & XtraC models have 8' power cords for plug-in. The M models' require professional hookup.
These saunas are very economical to operate.
Option "RB", a radiant heat backrest, can be used in any model. Two can be used in all but the A & C models, two are standard inthe A+, and more can be used in the M models. This comfortable, sloped backrest emits far infrared energy. The body efficientlyabsorbs infrared heat, which stimulates perspiration are slightly lower sauna air temperatures, usually 110-145F, when the rays aredirected at one's back (neutral signals are sent to the brain via the spine to start sweating). We use special ceramic heaters with very low electro-magnetic fields. The RB may also be used to provide relief from pain and stiffness.

Conclusion Building these special clean-air saunas require not only specialty materials, and extra care in their handling, but also the use ofconstruction techniques that insure the utmost in quality, safety and durability. With proper care, a Heavenly Heat sauna will serveyour family's health and fitness needs for generations. We have created these saunas by consulting hundreds of individuals. Because asauna bather is within an enclosure, under conditions of controlled heat stress, it is absolutely essential that the sauna's interior is free of fumes from heated adhesives and synthetics, minimizing or eliminating any chance of further exposure to harmful chemical vapors,or to strong electro-magnetic fields. Heavenly Heat saunas are recommended by the leading medical authorities in clinicaldetoxification because of our high standard in effectively addressing these factors. Our solid reputation is a result of our steady focuson the well-being of our clientele, and we appreciate the opportunity to provide a product of lasting and meaningful value. Saunas have been known throughout time to help relax and improve one's overall health,and promote well being. Until now, saunas have been only available through exclusivespas, resorts or health clubs. They are also built in private homes, at a great expense to theowner. It is now possible to have a sauna of your very own to enjoy day after day, whether you live in a grand home or in a small apartment.
Many health professionals today are now recommending saunas with long wave, farinfrared radiant heat for detoxification and many other purposes. This type of heat is foundin saunas with hot stones rich in zirconium as well as built in ceramic radiant heaters. Thistype of radiant heat is soothing, deep penetrating and assists in accelerated sweating. Byusing this type of sauna you may experience therapeutic benefits such as cleaner, smoother,softer skin, increased blood circulation, elimination of toxins, reduction of cellulite, weight loss, increased energy levels, deep relaxation, stress relief, ease of joint stiffness, muscle soreness and may even help relieve back pain. When you sauna, you glow, and really can achieve an over all feeling of well-being. Heavenly Heat has been custom building the highest quality far infrared saunas since 1989. Their saunas are handcrafted with untreatedwhite poplar hardwood. Due to allergy concerns of many individuals, much consideration has gone into the selection of the building materials used. Absolutely no toxic materials areused of any kind including treated woods, varnish, plywood or glues, plastics or putty inthe construction of the saunas. You can be assured when you are detoxing, you are notexposed to any other unwanted materials in the process. The walls and windows are madeof solid untreated hardwood and strong, high fired tempered glass. Additional infrared heaters are built into pivitable back rests for accelerated heating. Three ceramic infrared heaters, which have a 96% radiant efficiency are built into each backrest. With a small investment, you can achieve tremendous results with a Heavenly Heat Sauna in your home, office or apartment. Choose from many different sizes and styles. You can even choose glass or wood walls, or even quality speakers for added enjoyment. Traditional Finnish stone heaters are used as well as built in ceramic far infrared heaters for their flowthrough air warming that enables a constant, complete air exchange to quickly remove contaminated air from the sauna. The far infrared ceramic heaters have been tested for lowel ectromagnetic fields. The non-toxic construction and flow through ventilation provides theclean air environment that is required for effective detoxification. For a free brochure onthe Heavenly Heat Sauna, the sauna designed with your health in mind.
For detailed information, please request a free brochure.
Heavenly Heat Saunas Environmentally safe sauna rooms for the home, gym or clinic.Designed with your health in mind. Traditional, far-infrared & combination models available.Relax, detox and rejuvenate in your very own sauna!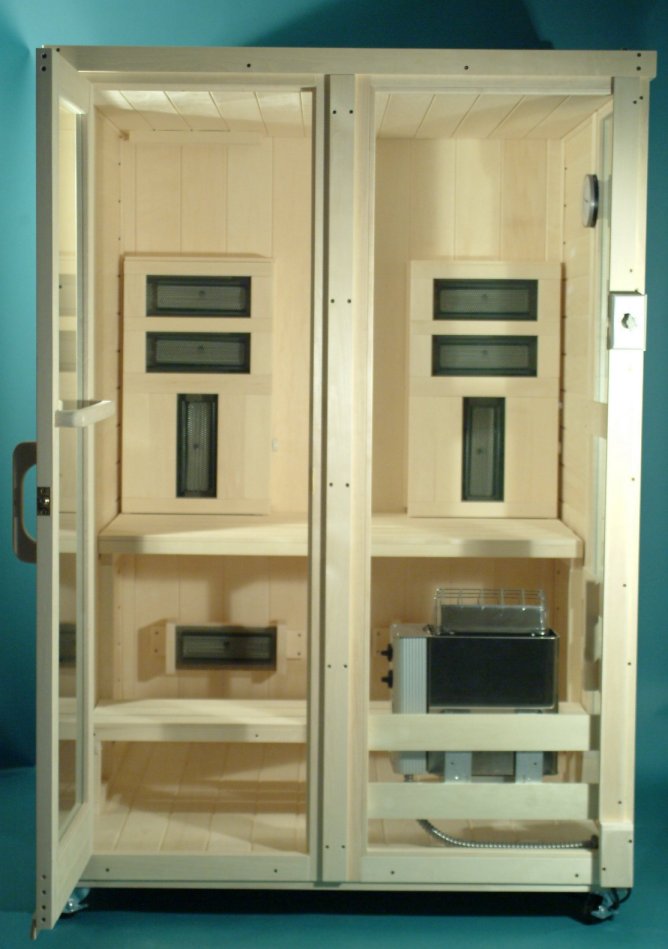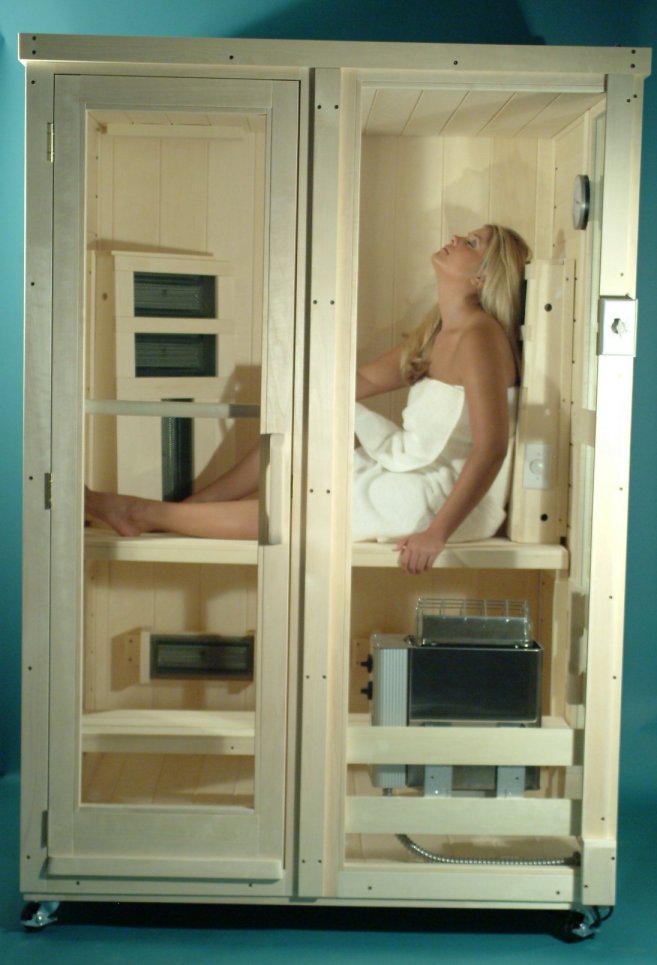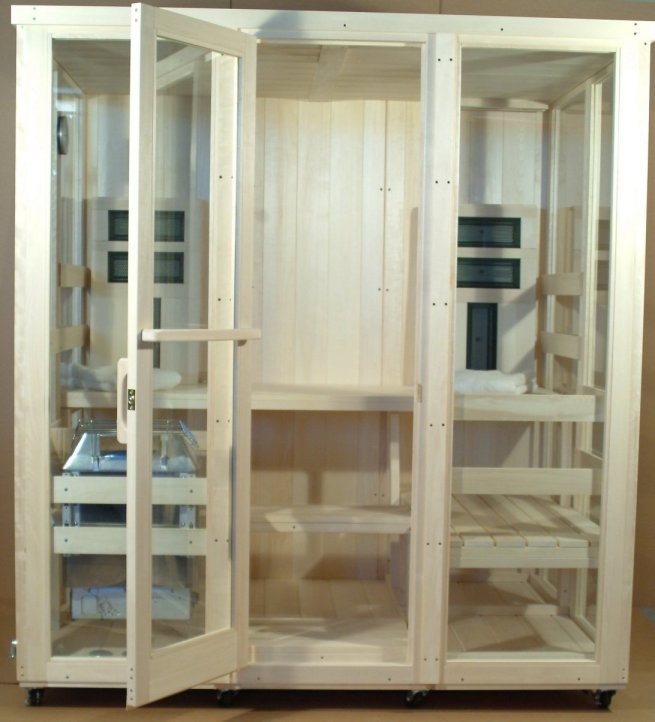 Heavenly Heat Saunas. For detailed information, please request a free brochure.
ARTICLES:
HEALTH BENEFITS OF SAUNAS: How the Use of Saunas Can Improve Health and Promote Wellbeing
SWEAT YOUR WAY TO RADIANT HEALTH: A Look at the Many Therapeutic Benefits of Sauna Use







Updated Daily!
* * * IN-HOUSE RESOURCES * * *